ECO LIFE
17/02/2017 02:02
It's not about how many houses are sold, it's about how many windows with the light on every night
A philosophy of Mr Dao Ngoc Thanh, Ecopark CEO after years of running the project Ecopark - "The Green City".

After 33 years with National University of Civil Engineering, teacher Dao Ngoc Thanh has a very difficult decision to switch to business, because all his life has been devoted to teaching career.
Mr. Thanh shares that on a project, he met Mr Luong Xuan Ha - Chairman of Vihajico. Mr Luong told him "You have been supported for many projects, so why not do something together then self-employed ". Then he started the life with Ecopark.
Whether it's a teacher to do real estate business, his mind has the "level" of the major real estate developers. After years of developing Ecopark, Mr. Thanh concluded, "to become a real estate developer, you must see how many windows with the light on every night."
It sounds simple, but he and the founder of Vihajico always have concerns about changing, whether large or small, to sacrifice or not ... in order to find all plans to achieve the goal. It's not an easy job.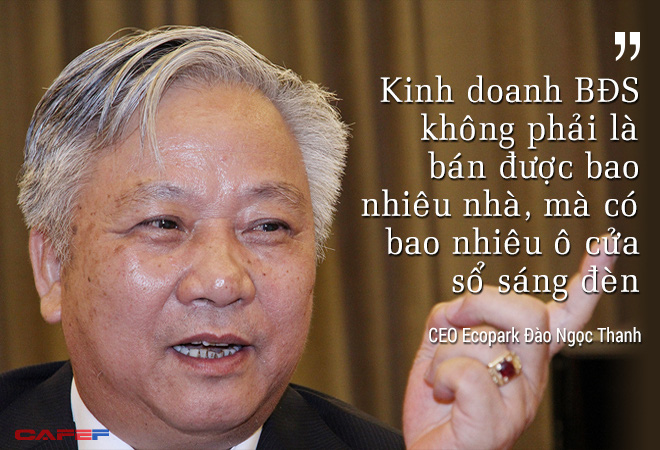 Until now, Ecopark has reached a part of the overall 500ha project , but investors have built many things that other projects have respect for. Ecopark is considered as a "Phu My Hung" of the North.
Each time Ecopark apartments are "sold out", people have to queue to buy the house. Phase 1 covers an area of approximately 54 hectares were sold out, including villas, townhouses, apartments. 02 new condominiums areas are West Bay and Aqua Bay with 5,000 apartments are sold to 80 % just in half a year.
Many investors regarded that as a great success. But Ecopark CEO, that is not absolutely successful.
"There are projects but no services, social infrastructure. Money are easy to have by selling houses but hospitals, schools ... are far earned money. No one pays sattention to this. That is the limit of the property market. "- Mr Thanh said.
So, we were used to the image "ghost cities", the rows of abandoned villas money, the resettlement houses deserted dark years, the bushes overgrown weeds, the urban areas that could not see the house abound...
Probably people have to go through that feeling to understand the philosophy of the CEO, that success is not the numbers, but the joy of the light on doorway every night.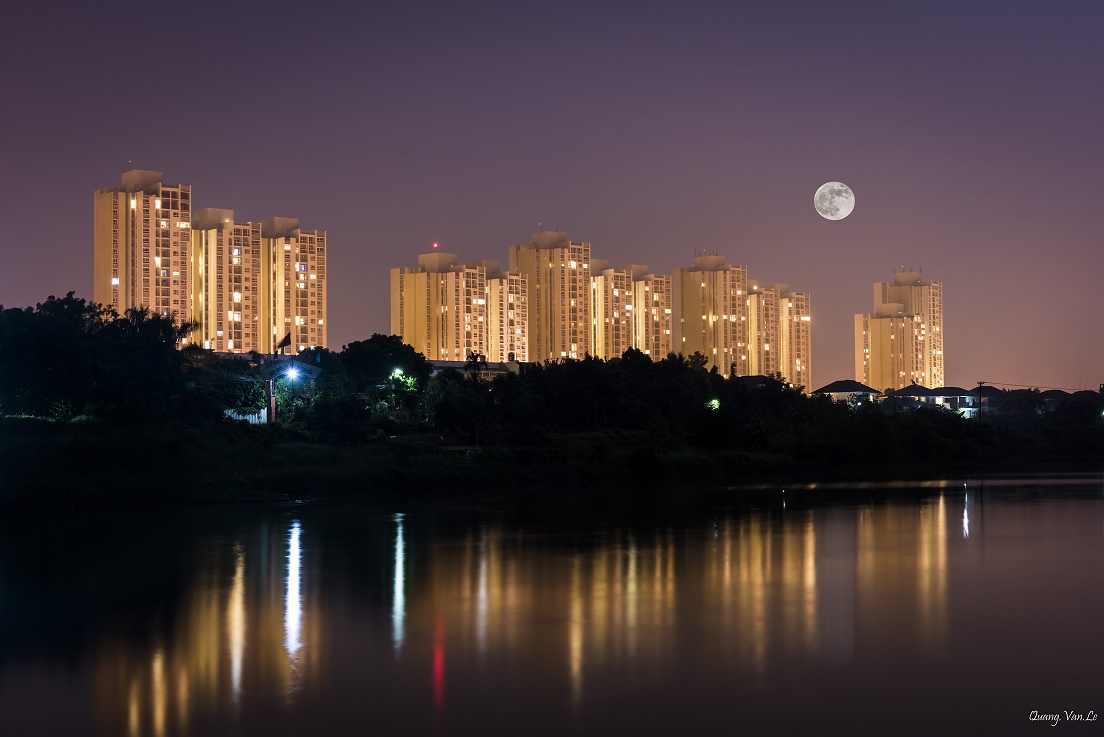 Rung Co (Ecopark) at night. Photo: Le Van Quang

For doing so, Mr.Thanh said it has to create a true living space. But how is real life? That is a big concern of his and Mr. Luong Xuan Ha. Mr. Thanh shared, along with the Ecopark Chairman, he had to go abroad many times to learn. And on a trip to China, he saw the roadside full of trees and flowers, both say, "That is the way to Ecopark".
Moreover, to develop Ecopark as a city, there will be schools, hospitals, commercial centers, entertainment ... to attract residents.
According to Thanh, in 9 years, there are many adjustments that Ecopark has made to attract residents. Such as Spring park adjustment, which is proposed as residential construction in the park.
It's a story about Ecopark attracts residents by trade centers, international schools, international hospitals, golf ... and investors have been doing that. "Recently we have entered a cooperation with a Japanese private hospitals," Mr. Thanh shares.
The business philosophy and development of Dao Ngoc Thanh Ecopark is the blending of two factors "ecology" and "economy - trade". What this project investors have been and will do is to solve the problem of economic - trade for each resident.
At first, people buy homes for ecology but then they will have to increase the value of the house, which increases the value of real estate projects. That's why Ecopark slogan changed from "City of the blue" to "Green city, full life."
As one of the outstanding utility services at Ecopark Green City, An Viet Eco Clinic is a trusted destinations throughout residents as well as the neighborhoods with the mission to care, protect to bring healthy living resource for all customers. The team of nurses and doctors with many years of experience, expertise and collaboration of numerous professors, experts, leading doctors, the facilities, equipment, machinery condition, meet modern standards of the Ministry of health An Viet Eco Clinic confirms as a Eco consultancy, reputable healthcare that will be caring, thoughtful, bringing satisfaction to all customers.
Event Calendar
Hot news
Most viewed